Barkasstra

at 7A, 1086VJ te Amsterdam
I teach, how through improving Your love making,
You can improve Your health, relationship and all other aspects of life.
At the introduction to tantra between theory mainly about practice, I will give small examples of simple, save exercises, what You can do at home with Your partner or without. Everyone who would follow instructions from this introduction may already diametrically improve her/his life.
Love is the most important thing for most of us.Sexual act should be most intimate,most close,most p
owerful expression of that feeling.

Through tantric activism(=doing "good")our lives will be much more happy and our way of loving stronger! And other way around : by bringing our love making to higher level, it will have a positive effect on our surroundings and eventually on the entire world.

For more info don't hesitate to contact mgriks@gmail.com
or check


http://

affordabletantra.blogspot.n

l/
And that's a little bit about the place:

http://degroenegemeenschap.org
De Groene Gemeenschap is sinds maart 2011 gevestigd aan de Barkasstraat te Amsterdam. Wij hebben er voor gekozen om met gelijkgestemden in een woongemeenschap te wonen waarbij we een aantal leef- en werkruimtes gezamelijk gebruiken. De groep telt acht mensen, twee katachtigen en een hoop plantjes
Op onze gemeenschappelijke ruimte op de begane grond zijn er af en toe activiteiten die ook voor mensen van buiten ons huis toegankelijk zijn. Op dit moment is dat eens per maand een weggeefmiddag (eerste zondag van de maand), en eens per maand een meditatie-ochtend (tweede zondag van de maand). Ook is de ruimte bruikbaar om met de buurt te vergaderen, zo hebben we er al samen gezeten met de buurtgroengroep en de bewonerscommissie van de huurders.
We merkten dat het voor sommige buren iets ongebruikelijk is dat alle tijd die we er in stoppen onbetaald is en dat we ook geen subsidie ontvangen. Als woongemeenschap betalen we gezamelijk de huur voor deze ruimte. We bekostigen de activiteiten uit de middelen die wij als woongemeenschap bij een brengen en de incidentele donaties van deelnemers aan de activiteiten. We willen graag onze sociale en groene leefwijze ook met anderen delen.
Ook in de ruimte aanwezig:
Bookcrossing- boekenplank.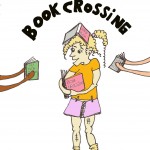 Alle boeken in deze kast zijn doorgeefboeken en mag je gratis meenemen! Het zou leuk zijn als je het boek na het lezen doorgeeft aan een volgende lezer. Als je zelf een leuk boek hebt mag je het ook toevoegen aan de bibliotheek.
In sommige boeken staat een BCID code. Als je deze code invult op www.bookcrossing.nl kan je erachter komen waar het boek al geweest is. Ook kan je zien wat andere mensen van het boek vonden of zelf een bericht achterlaten.
Weggeef-hoek.
Alle spullen in deze hoek zijn afkomstig van mensen die ze niet mee nodig hadden. Als er wat bij zit dat je zelf kan gebruiken, kun je het meenemen. Hierbij gaat er geen geld om, de spullen zijn dus bevrijd. Bevrijd ook jezelf van de consumptie-industrie. Gebruik wat je nodig hebt en kom ook spullen brengen die je over hebt.
Welkom is: kleding, gebruiksvoorwerpen, boeken, prullaria, speelgoed. Heb je grotere spullen die minder makkelijk in onze wegeef-hoek passen zoals meubilair, dan kun je wel een foto of een briefje ophangen, zodat mensen het bij je thuis kunnen ophalen